Here is where I've put all the miscellaneous stuff I've come across. Hopefully it falls in the category of useful information.
Forms
I have come across two useful spreadsheets, one for Track Day notes and one for gearing changes. The spreadsheet is Microsoft Excel. I also re-compiled Sport Rider's suspension tuning guide in PDF Format.
Tools
I had asked where to get some tools for my '00 ZX-9, specifically the large hex-bit and regular sockets for wheel removal. I was steered to McMaster-Carr, and one of the engineers I work with happened to have a catalog. The 30mm socket is used for the steering stem and swingarm pivot. The 32mm socket is used for the rear axle. The 17mm hex-bit is used on the left side of the front axle, the 22mm for the right. Fortunately, most fit my ZX-6RR, as well.
I bought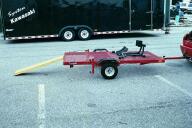 a trailer from Home Depot years ago. For more info click here.